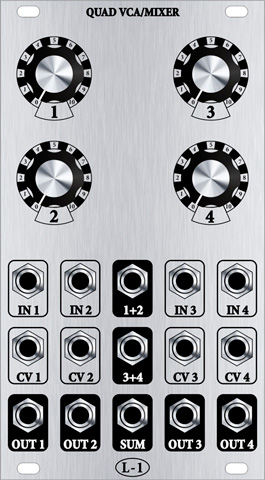 14HP
http://l-1.su/QuadVCA.html
Shopping carts http://l-1.su/QuadVCA.html#3

Assembly guide http://l-1.su/QuadVCA.html#1
I've tested today Serial No 0. Everything works perfecto!
So, i'm starting take orders.
Will upload all info on my site soon. Partslist is at the bottom of this post.
Pricing:
PCB - $30
Panels front+back - $30
SMD soldering - $15
Tempco resistors - $6
Shipping only PCB - $5
Shipping PCB+panels - $8
TOTAL full set with shipping - $89
paypal: info(at)greenexpo.by
This is hi-quality Quad VCA-Mixer. I used maybe best available VCA chips THAT2180 and OPA2604 in audio chain, TL074 for CV.
4 identical VCAs and mixer to mix channels in pairs and all together, each channel has separate out too.
VCAs feed both AC or DC sinnals.
Responce curve is in the middle between exponential and linear. Changing one resistor per VCA can change this curve if someone want.
Now I have limited amount of tempco resistors. For about 20 PCBs. But I've already ordered big butch of them, wait for them in a couple of weeks.
If someone doesn't want temperatutre compensation - don't pay for tempcos, I will install regular 2K resistors in their place.
PCB with installed SMDs (both sides):
PCB (both sides):
Scope shots:
Fast triangle modulated by slow triangle, and slow triangle modulated by fast triangle::