EDIT 1-26-2013: PCBs are in and available.
EDIT 1-22-2013: For info on the Dual Delaying Noise project that uses the same hardware, go to
This post
.
I just completed a new prototype that I wanted to share with folks. This project uses a single PIC16F685 as noise-source, VCA and envelope generator for both channels, so you can get two high-hat/snare/video game sword slash type sounds only using 3 ICs (The micro, a voltage regulator and a quad op-amp).
There's a picture of the front of my prototype in the gloat thread
viewtopic.php?t=74730&start=62
And here's a picture of the guts. As you can see, it's a relatively low-parts count build. This is a 6HP panel.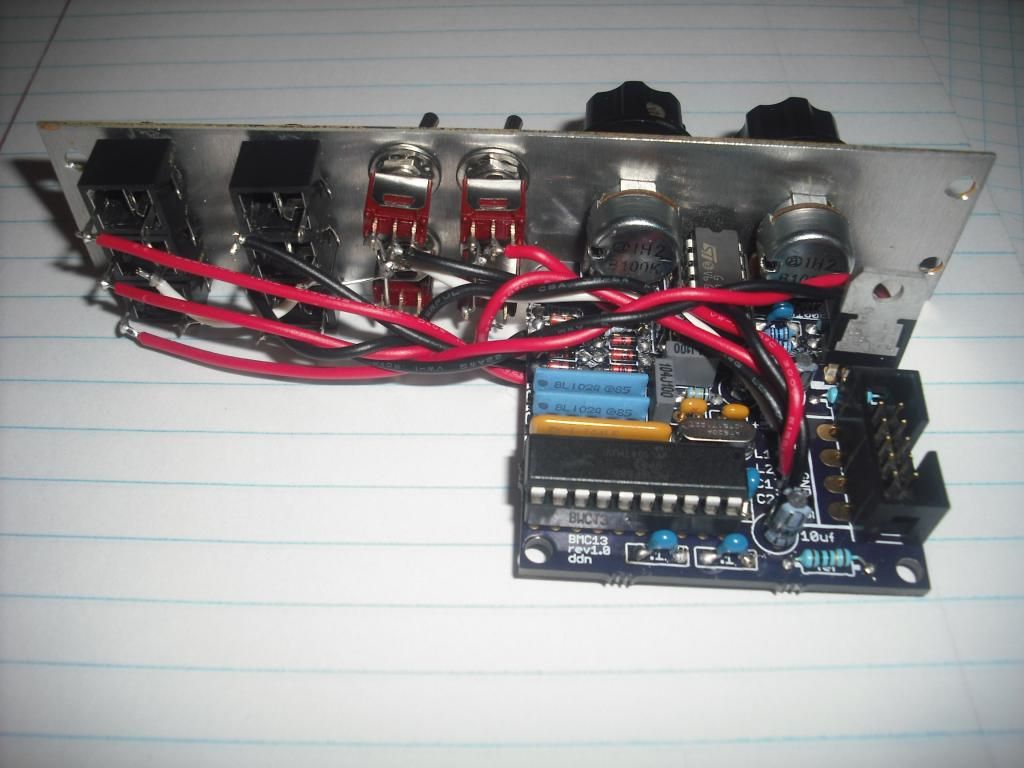 Each channel has a knob for decay time, when using external CV for decay time, the knob will act as an attenuator, when turned all the way up, there is no decay and the channel will act as a straight noise source.
There are two switches for each channel, one selects between a linear or logarithmic decay curve. The other marked "Open/Closed" selects whether the noise stays on during gate signals or only responds to the rising edge.
The audio on my camera is pretty poor, so I recorded an mp3 demo. When first turned on, it's in logarithmic/closed mode, then I do linear/closed, then linear/open, then log/open.
http://www.bartonmusicalcircuits.com/mp ... ample1.mp3
Luckily, I don't have to go through any hardware revisions on this, so I should have boards ready for folks relatively soon on this. $18 for a PCB/PIC. I will be writing build documentation for this soon, and when that's up, I'll start taking pre-orders.
If/when people are interested in getting boards, please e-mail me at Michael [the at symbol] bartonmusicalcircuits [period] com . E-mail makes it easier for me to keep track of, puts less strain on Muffs servers, and helps keep the content of this thread to only useful/fun information/conversation.
There is a page on my website for this project