Thomas White is doing another run
of this popular LPG PCBs, so I'm going to do another run of my Dual LPG panels: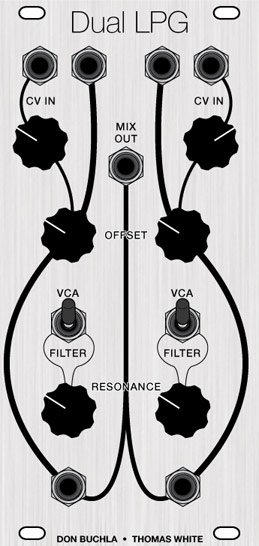 12HP, this requires 2 Thomas White LPG PCBs
As before, the panels are $20USD each.
Just in case there's anyone out there who hasn't built one of these yet, this is an awesome module...an LPG is something like the west coast equivalent of a filter as far as sound-mangling is concerned, they're essential to making the classic "Buchla Bongo" percussive sound, and they double as VCAs, which (as you know) you can't have too many of. Plus, they uses exotic Vactrols, which apparently
can still be found at non-exorbitant prices
.
Thomas White's LPG is well documented, making this a fantastic project for a beginner (was actually my first build). There is
lots of help available
and, due to its versatility, it's a great module in a small "starter" system.
Shipping Info
Shipping rates are per order, it doesn't matter how many panels you get (up to a point. If you order a
lot
of panels I may have to send everything in a larger/more expensive box...I'll let you know):
U.S. - $5.35
Canada/Mexico - $12.95
All other countries - $16.95
These rates are for USPS Priority, which does
not
include tracking on international shipments. I've had a few cases where international customers shipping has been delayed, and the lack of tracking has been frustrating. If you would like registered mail, tracking, or insurance let me know when you place your order and I'll get back to you with a price.
Order Info
To order send the following to me either by PM or email at clarke at muffwiggler dot com:
I'm ordering [x] pieces of the Thomas White Dual LPG panel for $xx, plus shipping, for a total of $xx.

I'm aware that I may have to pay additional amounts of customs and tax in my country.

I'm also aware that I'm only buying screened and drilled panel that may help me building an electronic module - I'm *not* buying a diy kit, not a "project" - just a screened/drilled panel. I know how to build electronic circuits and I am trained in electrical safety matters. The seller of these panels will not be held responsible for any damage that results from these panels, directly or indirectly.

My shipping address is

xxxxxx

xxxxx

xxxx

xxx

My PayPal address is

xxxx@xxxx.com

My Forumname is xxxxxx
Also let me know if you'd like to add any other panels to your order, or if you want to combine shipping with an order you've already placed.
When I get your order, I will reply with a Paypal invoice, due May 18, 2012. I know that's soon...I'm trying to get this one going quickly so they can ship out with the other panels I'm running right now (if enough orders come in over the weekend, I'll drop the manufacturing order on Monday). I'm
not
trying to rush anybody...if you need more time, let me know. I don't want anybody to miss this run just because of a deadline.