Albeit not synth gear, we thought we'd announce our new product here as well! We hope it won't ruffle any feathers.
Introducing the Parametric Guitar Vocoder, or PGV!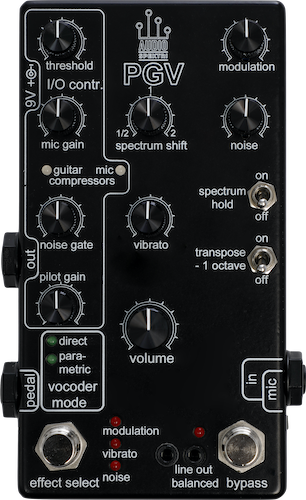 The PGV, or Parametric Guitar Vocoder extends the possibilities of a guitar vocoder. A conventional vocoder filters the guitar signal based on the voice spectrum. The PGV instead first analyses the guitar signal by measuring the pitch and amplitude of each string, then uses them as the parameters for synthesizing corresponding notes that each have the spectrum of the vocal input of the microphone. When the parameters are known, they can also be modified in the synthesis part for creating different special effects.
Because only the guitar string amplitudes and pitch frequencies are used, a singing guitar player can use PGV to produce a very natural sounding multi-voice output of his/her vocal performance. This is because there is no distortion from the guitar spectral characteristics like in a normal vocoder.
The analysis-synthesis -principle allows many freedoms for the synth: when all six string frequencies are defined, they can be transposed and modulated freely, e.g. to generate vibrato, FM or PM modulation. The vocal microphone spectrum (timbre) can be modified independently of the note frequencies, i.e. to make "baby" or "giant" voices. These special effects can be controlled using an expression pedal input and/or separate knobs on the PGV. The box has a footswitch for selecting the effect that you control with the pedal: either noise, vibrato/pitch bend, or modulation. Additional controls include a knob for spectrum shift, a switch for octave down transpose, and a spectrum hold switch for freezing a momentary vocal spectrum of a vowel.
Price: 350€ + Shipping
For more information, please visit our website:
https://www.audiospektri.com/parametric-guitar-vocoder/
If you have any questions, the fastest way to reach us is by email at:
contact@audiospektri.com