I know the previous subject got locked. But this is now totally a separate product in the modular case section. So it deserves his place here.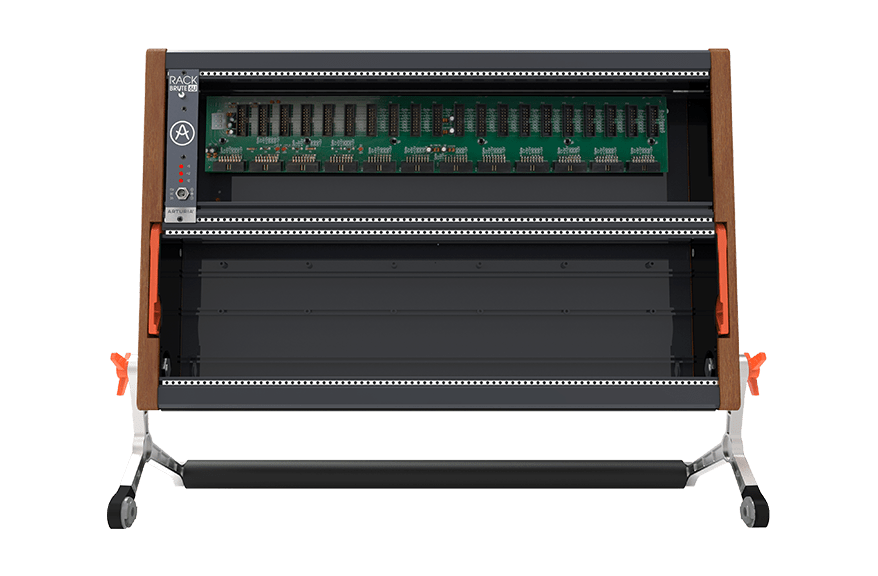 Artists may have a bodyguard. Modules deserve armor-plating.
RackBrute 6U provides you with 176HP to store and secure your enviable collection of Eurorack modules in an everlasting yet lightweight aluminum chassis flanked by two wood panels. Once you're locked and loaded, your modular setup will look and feel like a monolith, yet more flexible than ever thanks the Link fastening system and the paired handle. When on the move, it will make the transport of your modular equipment a walk in the park. When in position, it will let you organize your command center the way you want it. Modules don't live on love alone, and RackBrute 6U keeps everything alive with its +12V / -12V / +5V power supply.
Main Features
Eurorack format, 176 HP
Aluminum Chassis
Provided with a 5 HP power module
Up to 1600mA on +12V and 1600mA on -12V (4 separate circuits of 800mA)
Up to 900mA on 5V
Power rail with Noise filtering
32 standard power slots
20-slot zone with up to 800mA on +12V and -12V
12-slot zone with up to 800mA on +12V and -12V
Link system and smart handle to fasten a MiniBrute 2/2S or another RackBrute unit in various configurations
Built-in Spacers for the highest protection in transport configuration

Size & weight
Instrument size : 19 x 13.2 x 3.3 inches (484 x 300 x 83mm)
Instrument weight : 8.3 lbs. (3.76 Kg)
https://www.arturia.com/minibrute-2-landing#rb
the 3u looks like

https://www.arturia.com/rackbrute-3u/overview