Next batch coming soon.

The DIY PCB set (front and rear panels, circuit panel) will be directly available via my website in April for 90€ including registered shipping and Paypal fees.
Parts kits will be available from Weedywhizz (Germany) and Synthcube (US).
All values are silkscreened on the PCB, straightforward build, no rare part, no calibration needed.

All infos needed to build and use the ToolBox and BOB expander are on http://www.portabellabz.be/toolbox.html#doc


The built units will be available on order only, each one is cutomised to the user's preferences, please pm me to join the waiting list.
Price is in the 400€ range, depending on the options.
Shipping to Belgium : 10€
Shipping to EU and US : 20€
Shipping to the rest of the world : 30€
Payment via Paypal or bank transfer or cash on collection.

Thank you !
Todd Barton did amazing YT videos and Instagram snippets about the ToolBox, check it out !

He also suggested to add a basic square wave oscillator to feed the balanced external, a great idea. A small simple circuit can be easily mounted to the perfboard area with a 741, a pot and a few resitstors, output in tinijack. It's dead simple, not voltage controlled but stable and such a useful feature !
Thanks for the suggestion Todd
------------------------------------------------------------------------------------------------------------
Hi
Finally here is my Easel/208 expansion card
Features :
-gold plated connector
- envelope times variable CV inputs with sliders
- envelope looper with a pot delaying the retrig (like the "off" on Synthi, max delay time is about 8 sec) with CV input (thanks to a jumper the pot course can be selected : max time fully CW or CCW)
- envelope trigger banana input (the socket is shared with the looper delay CV input, select with internal switch ot jumper
- gate to trigger converter circuit to have the envelope working in transient mode with any pulse (can be bypassed if desired)
- CO waveshape amplitude variable CV input with pot
- CO waveshape switch CV
- MO hi/mid/lo range switch with multiturn trimmer allowing accurate transpose
- MO waveshape switch CV
- sequencer 2 stages or CV input switch
- individual trigger output for each sequencer stage and for all stages switched on
- random trigger input
- 3 way CV mixer with dedicated level for each input (1 is attenuator, 2 and 3 are attenuverters) and a LED for level display
- 3 unused emplacements in the top left corner for banana, switch, minijack... and room on the PCB to add other features matching each one's own needs
the "to prog" panel sockets can be used as well, which makes 5 custom connections possible
Options :
sequencer pulse in
pulser pulse in
pulser trig out (a short trig, not the ramp available on yellow sockets)
envelope pulse in
MO modulation switch CV
LPG1 mode switch CV
LPG2 mode switch CV
LPG2 signal routing switch CV
banana / tinijax converter (counts as 2 options because uses 2 sockets)
banana / mini jack converter (counts as 2 options because uses 2 sockets)
simple square wave oscillator, a great Todd Barton suggestion, typical use of it is the balanced external, it's VERY basic : a frequency pot, a tini jack out, a square waveform, range about 25Hz to 1500Hz (can be transposed by changing a resistor value), no CV input (counts as 2 options because features 1 pot and 1 tinijack output)

Feel free to ask if you think to other options.
- optional female edge connector on the back to connect a program card, iProgram card, Easel Aux Card or other modules to come;
The ToolBox works perfect with original Easel, 208r rev2 clone and BEMI 208.
It will NOT work with a 208r rev1 clone.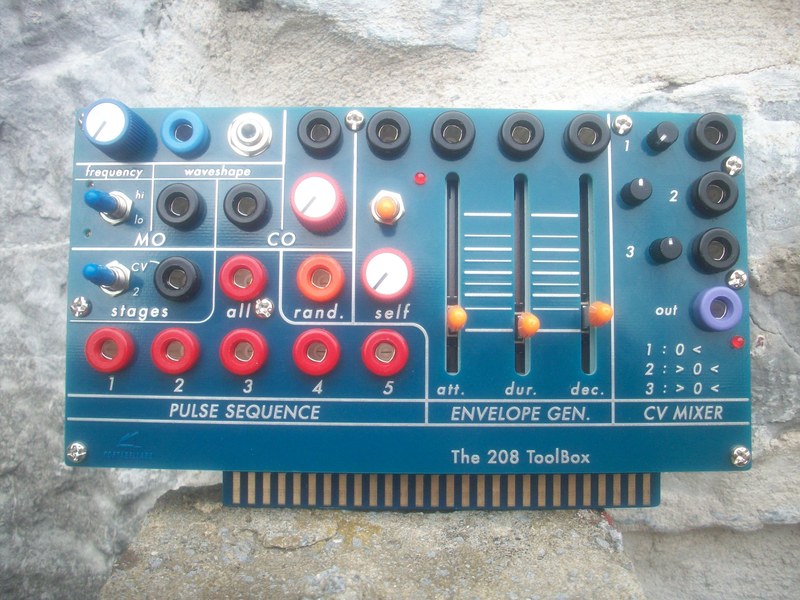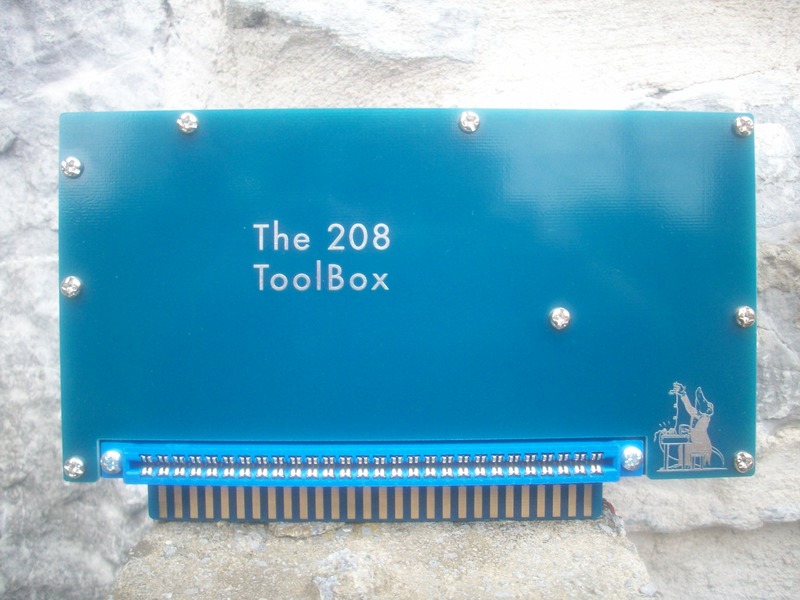 All options together are possible thanks to the
BOB expander
.
It can be plugged into the ToolBox's rear edge connector or standalone into the 208 and has a female connector as well.
Standard features :
- sequencer pulse in
- envelope inverted out / envelope trigger out (switchable)
- pulser pulse in
- pulser trig out (the internal short pulse occuring at the end of its cycle, not the ramp on yellow bananas)
- MO modulation switch CV
- LPG1 mode switch CV
- LPG2 mode switch CV
- LPG2 signal routing switch CV
- 3 customisable places with perfboard like on the ToolBox