Just thought i'd start a thread about the circuitbenders.co.uk
Harmonic Engine
PCB.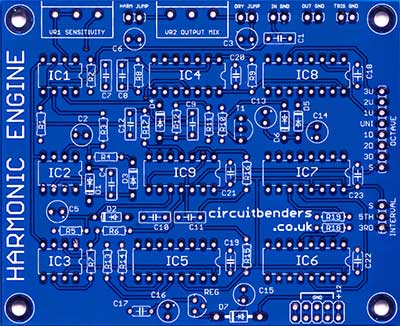 "......The circuitbenders.co.uk Harmonic Engine PCB is a clone of the E&MM Harmony Generator. This was a project originally designed by Paul Williams, and published in Electronics & Music Maker magazine way back in 1981. The circuit uses a 4046 Phased Locked Loop (PLL) to generate a squarewave oscillator output at harmonic intervals to the frequency of an input signal. The squarewave generated can be set to plus or minus up to three octaves from the input, and can also produce 3rd or 5th harmonies.
Thats the theory anyway. In practice the note tracking only works reliably if you use very basic waveforms at the input. If you use anything else, then everything very quickly descends into a beautiful kind of chaos, with all kinds of bizarre gurgling digital squeaks and squeals vomiting forth. Its especially effective with percussion sounds, converting each hit into some kind of warped electronic splatter."
[video]
[/video]
If anyone comes up with any interesting builds or mods for this board then i'm more than happy to put up a post and link on the
circuitbenders site
.