Okay there is a thread already where this one is menttioned, but it is a very messy one, so I will start all over right here.
I have designed a PCB for a gate activated slew limiter.
What it does is limit the speed of transition from one CV value to the next, in other words: it makes slides in your note sequences.
the slew limiter is active when the ilumminated tact switch is lit and the speed is set with the potentiometer. The slew limiter can be acivated manually with that tact switch, or externally by inserting a gate/ trigger signal in the connector labelled EXT. The toggle switch next to the EXT input determines the mode of external activation. when set to FF it activates the slew limiter on reception of a gate/ trigger signal. when set to G it activates the slew limiter for as long as there is a gate present at the EXT input. gated mode is nice to use with sequencers that have active step outputs.
The R1Gslew also has a buffered output for passing on the input to more oscillators (or more R1Gslews)
I reckon this one goes very nicely with any Baby-8/10 variant or an expanded Turing Machine or what not...
(yeah I need to expand my Turing Machine)
Look at him go:
[video]
[/video]
Aaaah me so clumsy!
So the thing looks like this when finished: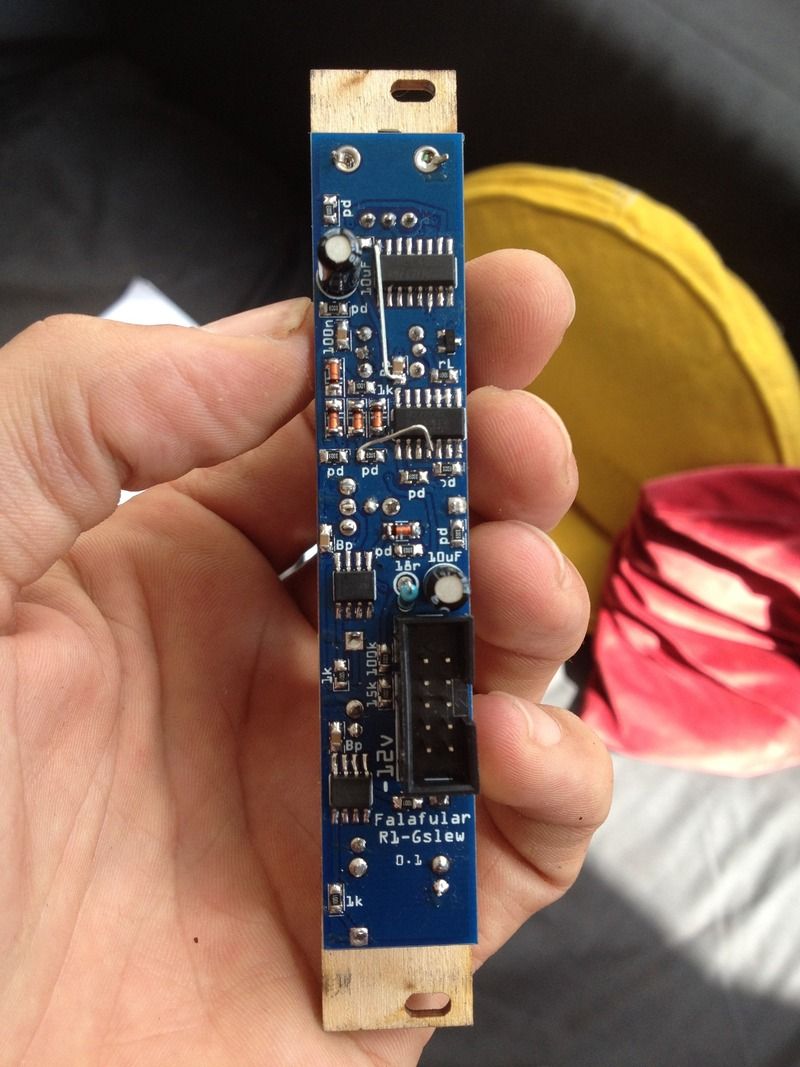 see the kludges? that is why they go cheaply for now. I will order revised boards shortly for those who don't want to kludge, but these wiil be less cheap.
kludge one is necessary to feed power to the cd4052 which is the IC near the potentiometer. Solder a resistor clipping from pin 14 of the HEF4013 or the pad of the Bp cap closest to that Pin 14, to pin 16 of the CD4052 or the pad of the Bp cap closest to that pin 16.
kludge two is makes the thing work nicer in gated mode. It will reset the active flipflop on reception of a gate signal. It also involves the cutting of a trace, which I have already done for you Solder a resistor clipping from pin 4 of the HEF4013 to the anode of the middle one of the three diodes left of it, or to the left pad of the pd resistor left of HEF4013.
as you can see the parts count is pretty low and there are no weird or hard to find parts. The BOM includes links to some specific parts.
I'd hereby offer these boards/ panels to people who would like to have a go at it. I have plenty of slew limiters for my own system for n
I am selling these PCBs for €5,- each, panels for €5,- too, shipping is €3,- worldwide (all ex VAT).
A BOM will be posted here later today, okay?
So who's in?
#########################################
These guys are:
Float32 x1
Flab x2
Mush x2
Sixty_n x2 + spaeterneisa x1
Mattfearsatan x1
Babagnohm x2 + Sizzla x1
Loderblast x1
Setsun8 x1