Okay guys, you have probably seen a few of these things on these pages before because I have been working on quite a few. Now finally I have a bunch of PCBs for them that are good and I am very happy about that! Anyone want to give it a go?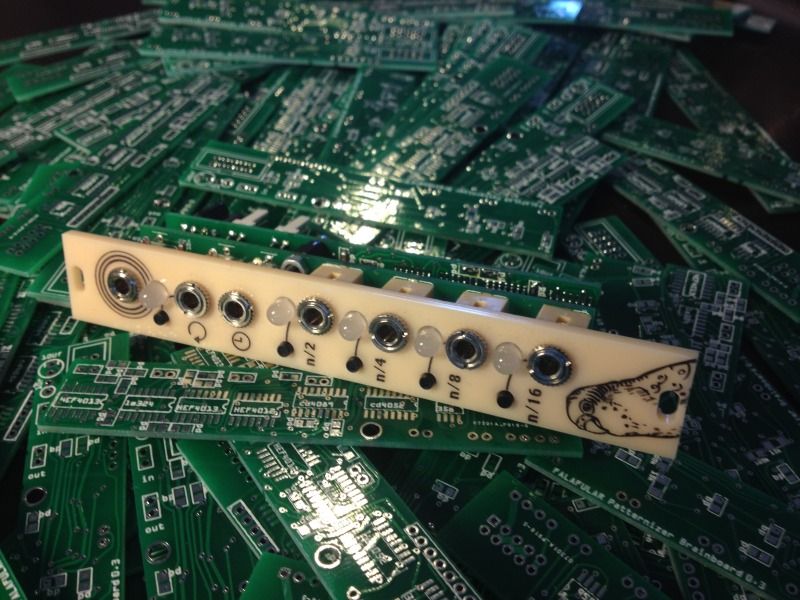 What is it then?
It is a Spaeterneisa, a 4hp clock divider with four divider stages (n/2, n/4, n/8 and n/16) that can be turned on and off manually with pushbutton controls or with external gates/ triggers.
The outputs of these dividers don't overlap and when all stages are active, the clock is simply passed on to the output.
Furthermore it makes a very nice 4 octave, switchable sub- oscillator.
But I use it mainly as a pattern generator, sending in the masterclock and using arbitrary trigger signals to switch on and off divider stages. I like the stuff it outputs driving my percussive voices and sequencers.
This shows the output order for the 4 divider stages. Note that th cd4089 leaves out 1 pulse in every 16 pulses when all stages are active. I used to just live with this but on the latest Patternizer models I have fixed it with extra logic circuitry (cd4012 and cd4089). So when all stages are active, it now simply passes on the inputted clock signal.
[video]
[/video]
[video]
[/video]
This one goes really nice with the Buncha-a-Klox, because I made the Bunch-a-Klox especially for this...
This is a 2 board module, almost completely 0805 SMD, some tiny transistors in there, oh well.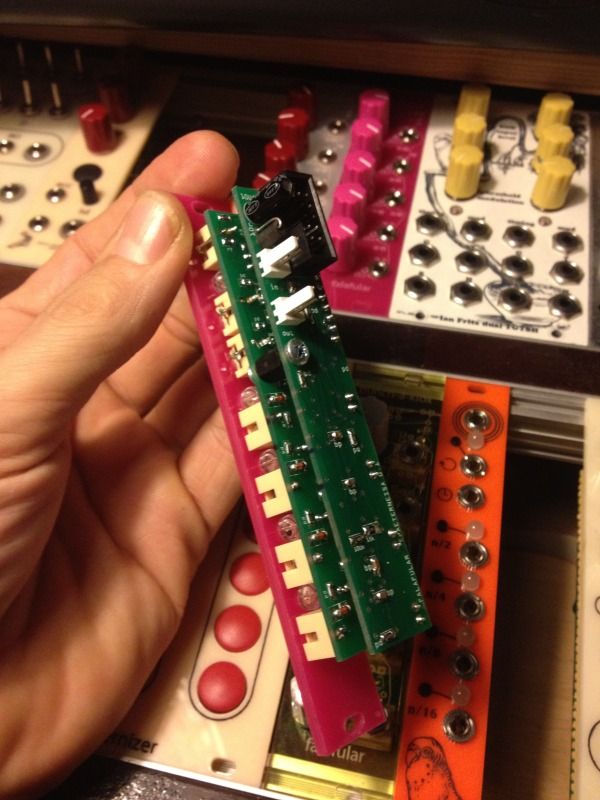 I'm thinking € 25,- per PCB set (including VAT)
Panels € 10,-
===========================
I get the switches from Tayda:
http://www.taydaelectronics.com/catalog ... /?q=A-5156
these are 13mm high and stick out above the Plexiglass panel so you can actually push them.
Tayda are also very good with the SMD resistors and ceramics and the electrolythics of course. They also carry some Kobiconna-a-likes but I don't really like using those myself.
===========================
On the list are:
1 x Dripfeed
1 x Oberkorn
1 x mckenic
2 x Spenca
1 x livefreela
1 x mikecameron
2 x C1t1zen
1 x synchromesh
info requests have been sent out
===========================
batch 2: updates in this thread
1 x sammy123