Xaoc Devices presents:
ZADAR
1973 Quadruple Envelope Generator
Manual:
http://xaocdevices.com/manuals/xaoc_zadar_manual.pdf
Shapes chart:
http://xaocdevices.com/manuals/xaoc_zadar_chart_2.0.pdf
ModularGrid:
https://www.modulargrid.net/e/xaoc-devices-zadar
NIN
1973 Expander
Manual:
http://xaocdevices.com/manuals/xaoc_nin_manual.pdf
ModularGrid:
https://www.modulargrid.net/e/xaoc-devices-nin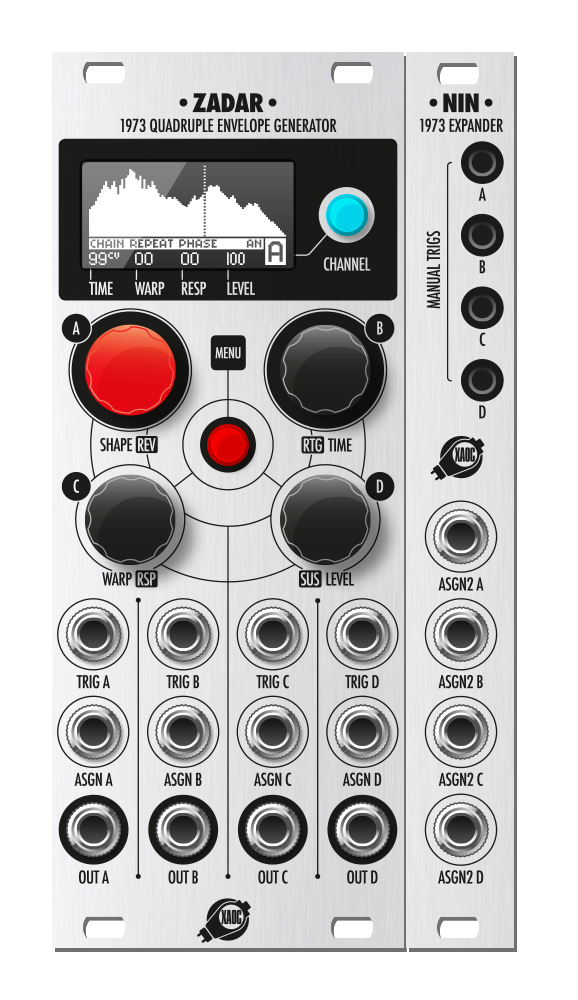 ZADAR
·
The firmware has been updated to 2.0.1
· Four independent channels
· 260 unique vector shapes, including artist signature banks from Shackleton, Scanner and Richard Devine
· Cycle time range: 0,85ms to 30min
· Shapes can be radically modified in two dimensions
· Immediate operation, accessible interface
· Complex envelope looping and chaining features
· Assignable CV inputs to control nearly every parameter
· 18 preset slots
· 10hp
· 310 EUR,
AVAILABLE NOW!
Based on the general idea of synthesis by deformable vector shapes, Zadar allows you to choose from a wide variety of envelope functions, designed to suit pretty much any possible usage scenario. From basic and simple to complex transients, from looped modulation cycles to rhythmical patterns, from quasi-randoms to perfectly regular functions, natural envelopes extracted from various acoustic and electronic instruments, abstract fractals and physical models, etc. — they all work great as envelopes but also as stepped sequences, LFOs, resonator exciters and so on.
Starting with one of (literally) hundreds of shapes defined by freely scalable vectors of breakpoints stored in the memory, envelopes can be tweaked and adjusted to the heart's content. Each shape consists of up to a thousand of segments, and it may be warped in time and amplitude, reversed, stretched from a fraction of milisecond to about 20 minutes, and of course attenuated. By manipulating these parameters you can easily obtain a plethora of new shapes, but it doesn't end here.
Envelopes can be repeated, looped, chained and each channel sports a freely assignable CV input, allowing for most of the above mentioned transformations to be externally controlled as well.
Operating Zadar is quick and straightforward thanks to the set of four "endless" encoders. Menu diving has been reduced to minimum, and is actually only needed for the advanced settings. A crisp OLED screen provides the necessary visual feedback in real time. All the settings can be stored and organised in preset slots.
There are plans for even more functions to be added in later firmware revisions. Also, a small but very useful Nin expander module is planned, sporting yet another set of individual, assignable CV inputs and manual trigs for each channel for better tweaking comfort.
NIN
Nin is a simple but very useful expansion for the ever popular Zadar quadruple envelope generator module.
· The upper section consists of four tactile buttons that provide manual gates for each of Zadar's channels. The buttons are useful in live performance and when fine-tuning parameters.
· Most importantly, the expander features a second set of assignable control voltage inputs for Zadar channels. It also unlocks an additional menu page on Zadar, allowing for the assignment of up to two total voltage controlled parameters for each channel.
· 3hp
· 55 EUR,
AVAILABLE NOW!