Hey guys and gals,
I went ahead and ordered a bunch of VATclap 0.2 PCBs that you might like; I do.
The very first version has some terrible mistakes in it and is very hard to complete as it involves some quite tight cuts and quite cramped kludging of SMD transistors.
Once it runs it sounds nice however:
https://soundcloud.com/falafel-biels/vatclap-demo1
some glitchy shit in my recording setup.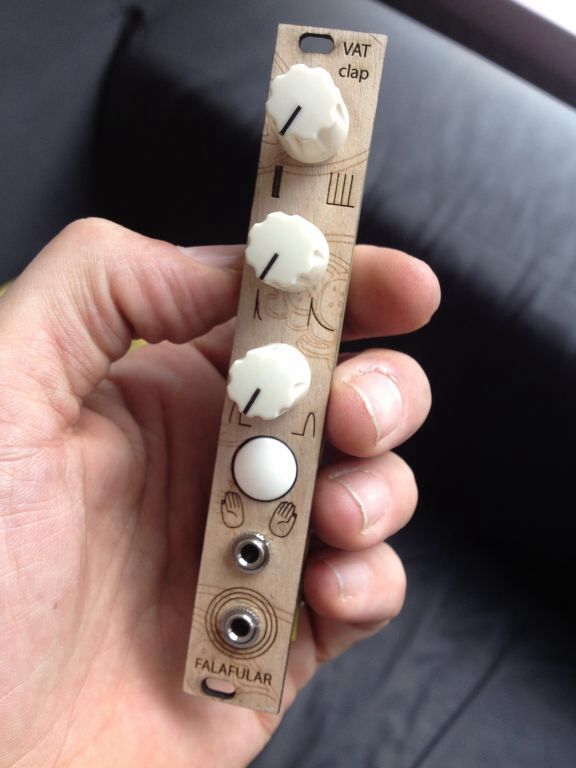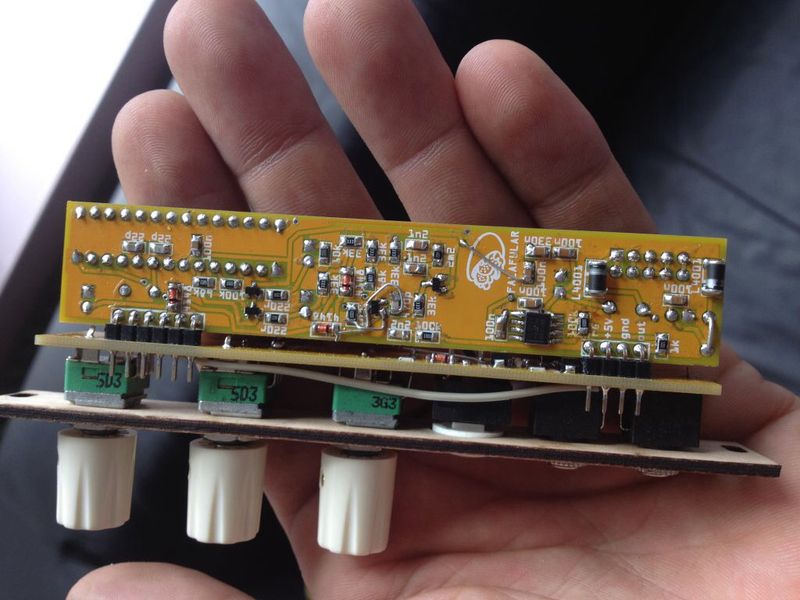 So of course I would like to sell these things to you, because I want to buy an FPV set for my rc quadcopter
This is a half clone of the Boss dr-110 handclap circuit. Some ICs are simply unavailable in SMT so I had to take some different approach to the noise generator. The ATmega is there to supply the noise, as well as the trigger sequence or "crackle". The noise from the ATmega sounds much smoother than the original dr-110 noise, which is kind of loopy. Never mind that, it is the overall result that matters right?
The ATmega seems overkill, but it is the most obvious choice if you ask me.
I looked into ATtiny in SMT, but that would require In System Programming which not everyone can do easily, I know I don't like it much this far as I haven't had any good results yet.
A ATtiny with ISP header would take up about as much space on the PCB as an ATmega and an ATmega is much more doable for most so I decided to go with that.
Most of the action on the filter is over the 12 o'clock position. In my demo you hear 1n caps in the filter instead of the 1n2 that it asks for on the PCB.
The module does not hold too many components as you can see, pretty easy build.
The panelcomponentboard has a minor error in it still. The direction of the decay pot is wrong. It being set up as a variable resistor this is very easy to fix. I will make the cut, you do the very simple kludge.
So if anyone would like to try this, PCBs are on their way and should be in in about three to four weeks. I am asking 10,- for a PCB set and €5,- for a panel. A programmed ATmega 328 will be €5,-.
P&P is €3,- worldwide, 21% VAT on the total price where applicable.
Who wants this?
++++++++++++++++++++++++++++++++++++++++++++++
These guys:
Yan6 x 1
Grizzle x 1 + IC?
hsimonis x 1
C1t1zen x 1
Crashlander42 x1
Ayab x 2
Acilator x 1 + IC
Davehoec x 1
GryphonP3 x 1
PWM x 1 + IC
spneca x 1 + IC
Suf-fuD x 1 + IC
Mobith x 1
vtl5c3 x 1 + IC
Inlifeindeath x 1 + IC
Sicpaul x1 + IC
D.simon x1