Hey people,
because I have a bunch of little percussion modules that have no accent feature, I made a mixer for them that does, The Accenturist.
This is again an idea that came from looking at the CR8000 circuitry.
The Accenturist is a fairly straightforward 6 input, 1 output mixer that uses a VCA (that2181c because I had a bunch of these) and an internal little envelope circuit to accentuate notes.
It can take any old positive going trigger signal (thus far anyway, surprise me) to get the envelope going and it will give you a bump in your audio.
the amount of bump can be set with a little attenuverter and because it is an attenuverter, you can also make that bump a little dip. This dip isn't always very audible on percussive notes though, on an oscillator it is good.
the input can also be switched from trigger in to CV in mode, in which case it will stick the input into a buffer, and ignore the envelope. In this mode, you can use any of your envelopes, envelope followers, LFOs or what have you to modulate the dynamics of your signal for all kinds of compression/ expansion effects. It is very nice I assure you.
It has "stupid eurorack power wrongful connection" protection as some people have asked for this and footprints for ptc fuses just to be on the even safer side. I bridged these because I don't have those parts here.
There are trimmers on the back for setting the general level and the max accent level. Make sure you have some headroom on your mixer channel if you want dramatic dynamics effects.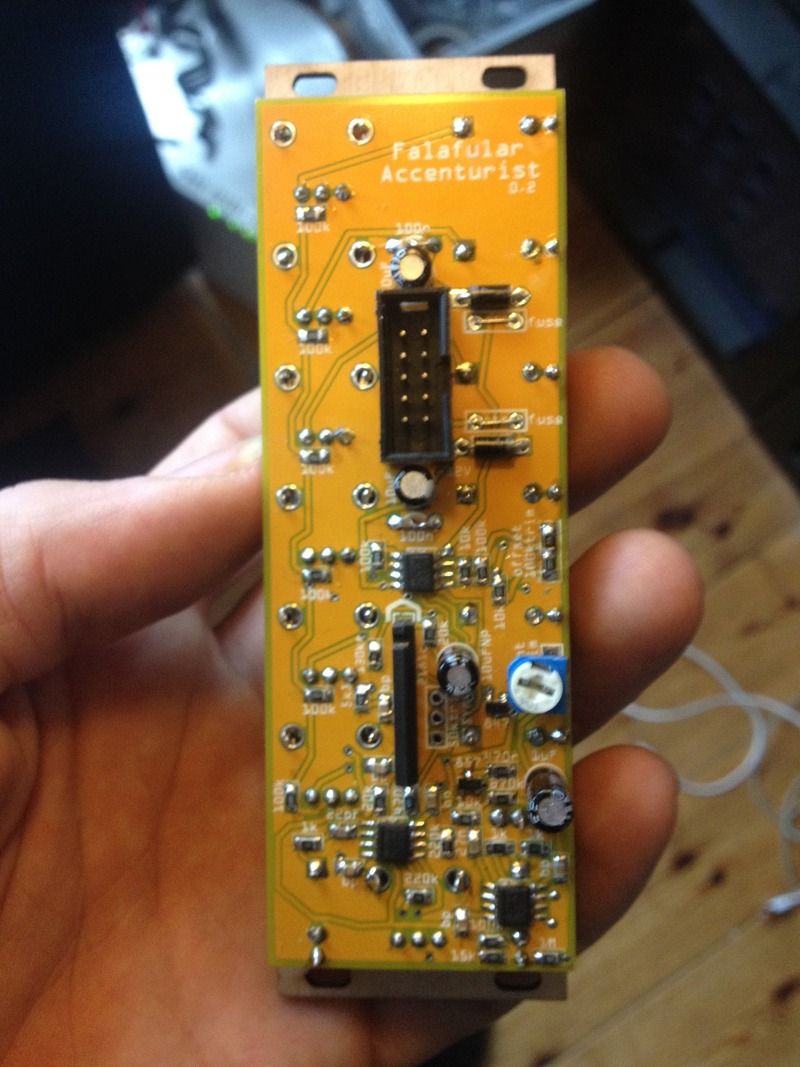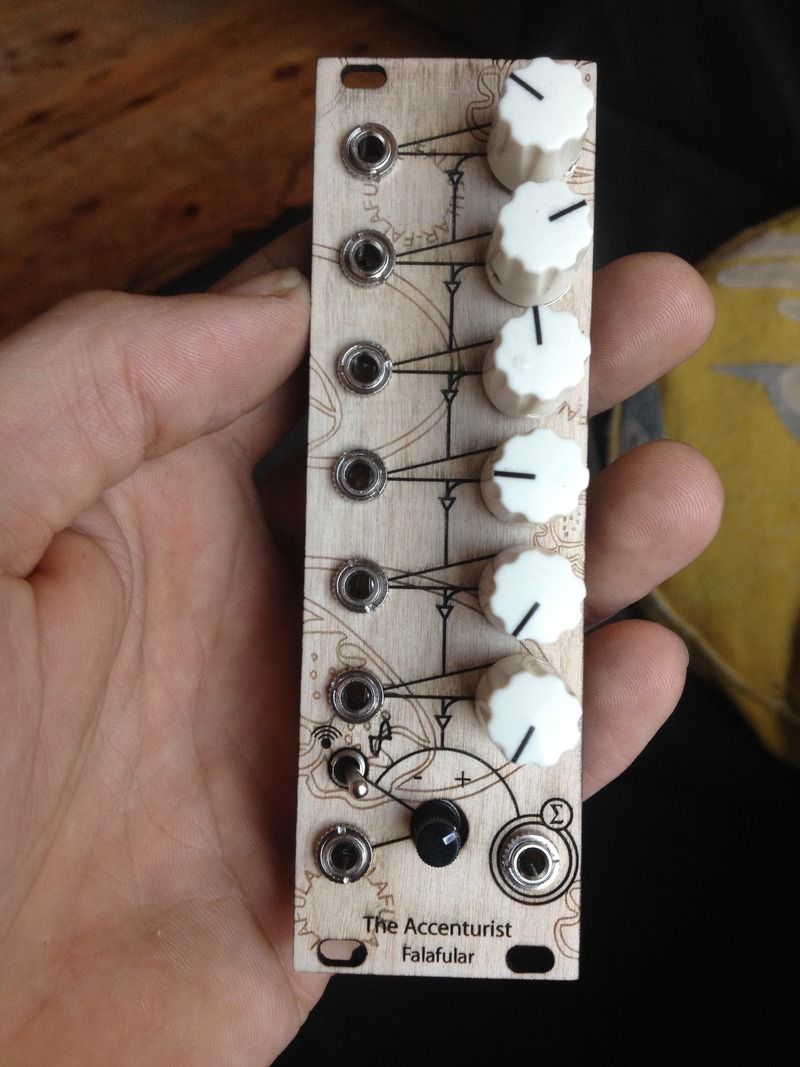 Mucking around a bit with pita falafel pattern in the background. This is a thing I want to do a bit more of.
So this one works as is and the only "funny" part in there is the THAT2181c VCA chip. all SMD is 0805 so no problem there with even slightly steady hands.
I will upload a BOM as soon as I have made one. Also schematics because I want to better myself hehehe.
It is probably a two hour build or so if you have all your parts ready to go.
Right, now I have 5x v0.2 boards to spare.
So to get a bit of money back into my Paypal account so I can make more new stuff (working on some things) I would like to sell these boards, with panels if anyone wants them. Tomorrow I will do some panels which I think look nicer than these, will post piccies.
The panel you see here is 2mm thick, 5 layer "airplane" plywood, which is quite strong. I have no problem using this stuff and it looks rather nice.
I can do 3mm Perspex and 3mm birch triplex as well, but 3mm doesn't go very well with the Thonkiconn connectors that I love to use.
For anyone interested, I am thinking €10,- for the PCB and €10,- for the panel, plus €3,- for shipping anywhere and VAT where applicable.
I will be ordering v1.0 versions soon (but I need my Paypal filled up a bit for that so there you go). v1.0 will probably be exactly the same, maybe I will lose the symmetry trimmer, but then again, why would I?
Anyway these are good, so they will be renamed v1.0 as is only usual.
So who wants a piece of this?
+++++++++++++++++++++++++++++++++++++++++++++++
well:
1 x hsimonis
2 x spneca I still have a hard time pronouncing that
1 x grizzle See? much easier!
2 x sixty_n
1 x DJBRUTAL
1 x yan6
2 x Crashlander42
3 x mtrnn
1 x jensu
1 x sammy123
1 x Zaibach
1 x shiftr
2 x mobith
1 x oberkorn
1 x Suf-fuD
And that's it for this run. Nag me and I will order more boards...