Hey people,
I have been teasing you with this one here and there and now is the time to launch this thing.
Over the last few months I have been working with Timo Rozendal (he did the hard part of coding this thing and did an excellent job!) on this little drumsequencer idea that had been roaming in my head for a while, which will be known henceforth as the Corny Rhythm.
The basic idea behind this project is that I wanted to have a compact rhythm sequencer that has more emphasis on playback than on programming on the spot. Furthermore I was looking for some features that just do not appear on modern drumboxes anymore.
[video]
[/video]
The idea first took root when we had a friend of mine, Senne (Zenn on here) playing at Noodlebar, our monthly modular noodling event. He brought an old Korg rhythmbox and it occurred to me that these preset rhythms were still quite up-to-date. Also he kept pushing the fill button and that surely worked magic...
The preset rhythm might seem somewhat corny and it oftentimes is, but this can been seen as a quality in itself. sure enough these patterns had been well chosen back in the day and who can argue with a good samba?
Now I have had many drumboxes and in the first few months I owned them I would enter a bunch of cool patterns, but in the years after that I would only play them back. New machine would mean new rhythms. In a sense these had become my own preset rhythms.
My guess is I am not the only one to work like this.
In this module the preset rhythms aren't even
that
preset. It runs on an Arduino Nano, which means whatever is in there can be edited.
Timo has been working on a tool that allows you to convert midi files into arduino code that you can copy into the Corny Rhythm code. Some household chores come with it, such as naming the rhythms so they show up properly in the display. I believe it is quite doable for anyone.
In the current code it holds 7 banks of 8 patterns each, but there can and will be more. Right now the memory usage is at about 20% and that includes the code that the module works on, plenty of scope.
This sequencer is a bit of an ode to old rhythm boxes and so we have included the 3 rhythm banks of the Roland CR8000. This is where it gets its' name from too (CR8000=Compu Rhythm 8000)
Now these rhythms are particularly Corny....
Also I reckoned it would be nice to have this module play sounds already without hooking up any other drum voices, so I incorporated a
Tumbadora
in the design. This is a recreation of the CR8000 conga voices, the most corny sounds in there!
So if this would be your first module, you may consider it a conga sequencer! corny corny corny.
Now the cool thing with this is the way you can sort of emulate the way we tried to use old drumboxes with our modular gear without the hauling of heavy fragile boxes. It was all a matter of synchronising the stuff and then pressing the different rhythm buttons, sometimes several at once, to get cool rhythms.
The Corny Rhythm takes CV to control, along with the central potentiometer, which pattern is playing at a given moment. The patterns can be switched at any moment, not just at the end of the pattern.
At reception of a clock signal the module looks at the central pot and the incoming CV to determine from which pattern it will play the notes at that given step. So every step can be from a different pattern within a bank.
depending on the musicality of the patterns, it will always play "musically valid" rhythms.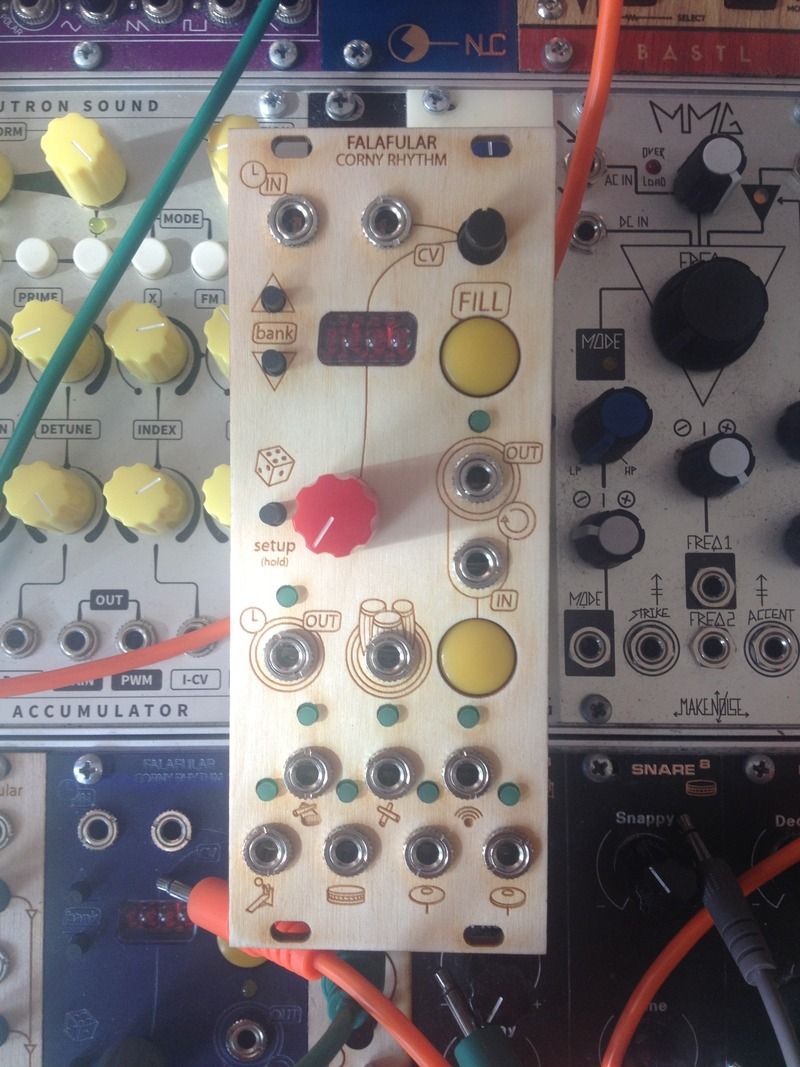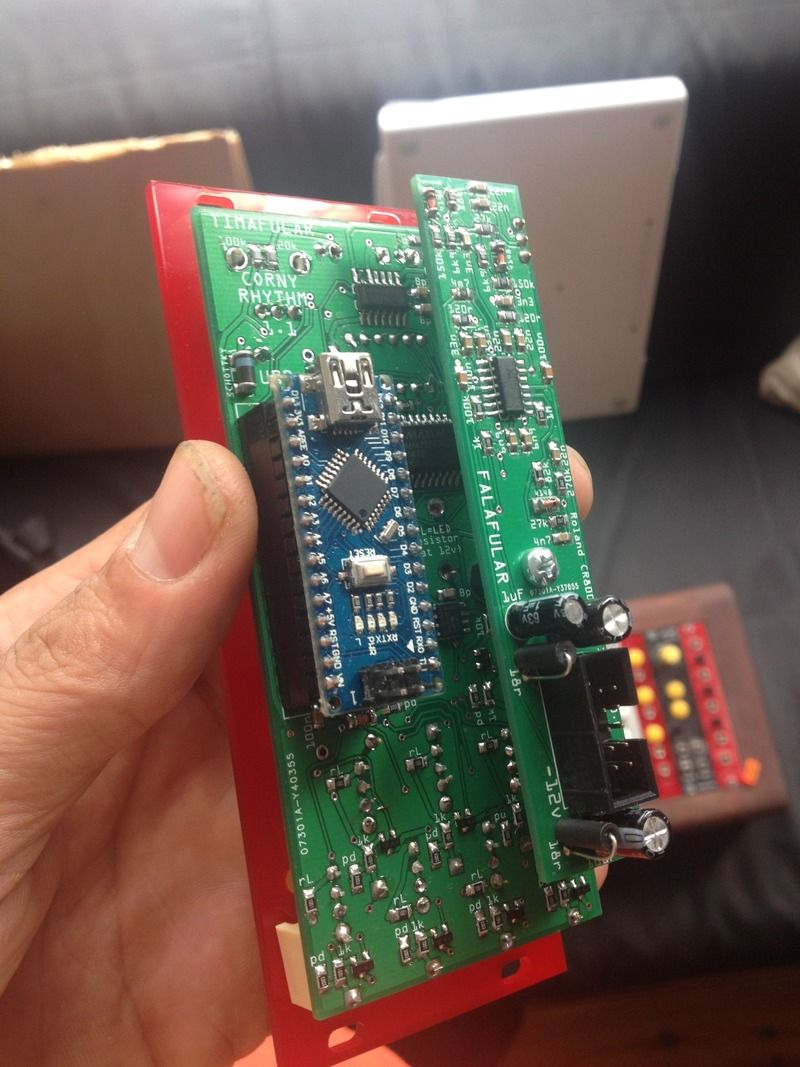 features:
clock input
buffered clock output
reset input (manual and mini jack input)
reset output (outputs a trigger every first note in a rhythm)
up and down pushbuttons for selecting rhythm banks/ household duties
random pattern pushbutton
drumfill pushbutton
potentiometer for selecting the rhythm within a bank
CV input (with attenuator) for selecting the rhythm within a bank
Cool LED display showing you what is going on
7 trigger outputs
Tumbadora output (analog conga sounds)
autofill
random fill
So yeah I would like to know if anyone would like to be in on this. I have about 10 boards left right now That I can part with.
The price for a PCB set would be €30,-, this includes a Tumbadora board set as well. The panels will go for €10,- and shipping is 3,- worldwide. These prices are ex VAT. The Arduino Nano is not included.
For now I can send you the code if you purchase a board set. Something like a github should be setup in the near future I suppose.
And a word from Timo Rozendal that appears later in this thread, I know not everybody likes to read entire threads full of useful info:
I will put the software, templates and help applications on my website soon and put the links here, it will have space for 8 fill banks and 16 rhythm banks, each banks has 8 rhythms. Those can be changed fairly easy, adding more or changing the order of the banks is more work.

The conversion software (midi to 'corny-code') will be mac only initially.
You are free to choose the length and division for each rhythm.

There will also be a help app to create the display messages.

the arduino we use is the nano clone from banggood
##########################################
Because of issues regarding the availability of the nice display I have made a new version, Corny Rhythm mkII. See halfway page 8 of this thread.
This version uses a super-available and far more affordable display.
I will not be ordering new boards for the first version. For those that have a display, there are still a few boards available.
******************************************************
Who's in?
well them's in:
Spcena
berenie
Search64
Clausf
mbroers
Jhon
Kalle
Grizzle
tds
Sammy123
Run number two:
Timpecter
InfraXpert
Euromorcego
Barcode
Eloc
Gwash
DJBRUTAL
Gwpt
fluffybeard
sixty_n
Magneticstripper
Davidschwan1
+++++++++++++++++++++++++++++++++++