Good news for me, I can finally stop working on my Quad Patternizers because they are DONE
Well we will see about that but I have built up a unit from the latest board run and it works like a Oompa Loompa, they work good!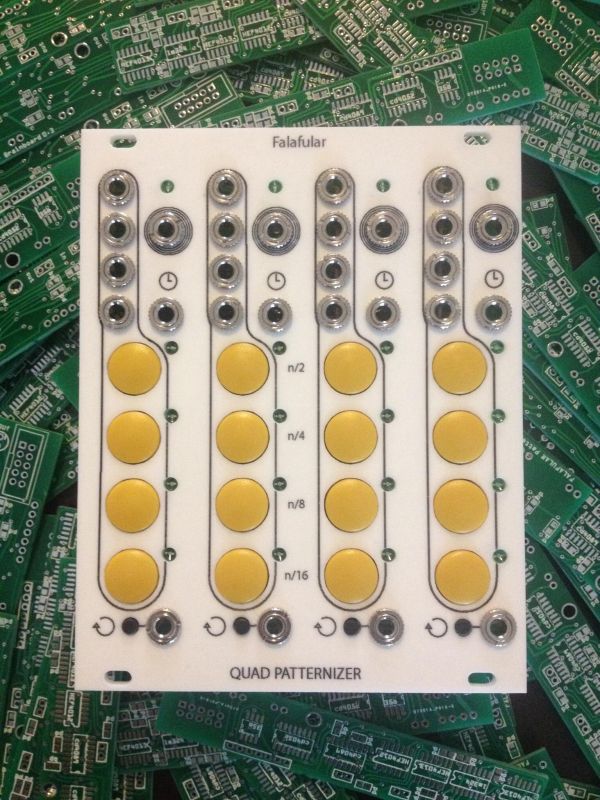 I have explained the workings of it here and there and I should really gather all that info somewhere, but for now I will just place this video by Allert from Sonar Traffic here. More explanation is in
this here thread
where I try to sell a couple of board sets so people who are interested can build one for themselves. I will just copy some stuff from that thread.
[video]
[/video]
What is it then?
It is a Quad Patternizer, a 20hp, 4 channel clock divider with four divider stages (n/2, n/4, n/8 and n/16) per channel, that can be turned on and off manually with pushbutton controls or with external gates/ triggers.
The outputs of these dividers don't overlap and when all stages are active, the clock is simply passed on to the output.
Furthermore it makes a very nice switchable sub- oscillator.
But I use it mainly as a pattern generator, sending in the masterclock and using arbitrary trigger signals to switch on and off divider stages. I like the stuff it outputs driving my percussive voices and sequencers.
This shows the output order for the 4 divider stages. Note that th cd4089 leaves out 1 pulse in every 16 pulses when all stages are active. I used to just live with this but on the latest Patternizer models I have fixed it with extra logic circuitry (cd4012 and cd4052). So when all stages are active, it now simply passes on the inputted clock signal.
Like the Spaeterneisa before, I'd like to sell some board sets to people who are interested in building it. Of course I don't mind making some money back on the work I have done on these and the people I have burdened with a unit have so far enjoyed using them. Some bad news though:
This is a 5 PCB set, nigh full on SMD, no simple project. I wouldn't advise this as a first soldering project, nor as a first SMD project.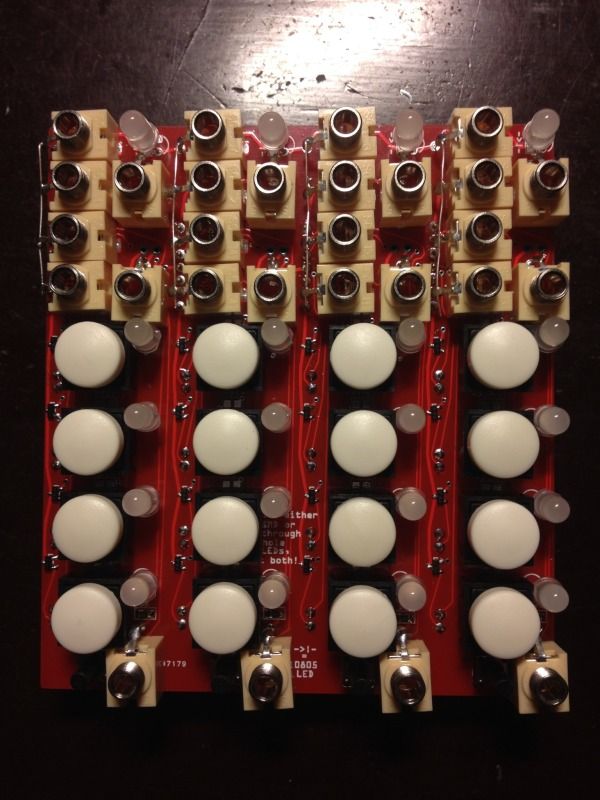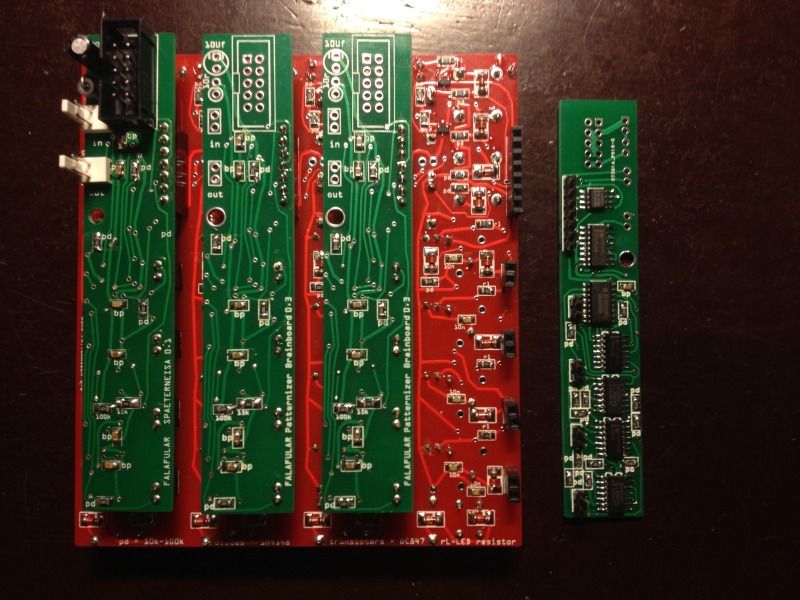 On the red transparent unit I have used SMD LEDs, I kind of like the effect. The PCB has pads for SMD LEDs between the pushbuttons as well as footprints for through hole LEDs on the right hand side of them.
I have to do some work on the panel design for 5mm LEDs, but 5mm just doesn't seem to be a convenient choice. They are not only thick but also somewhat high, not nice when swiping buttons.
The white unit in the top picture uses 3mm cylindrical LEDS (flat top) which are nicely flush with the panel. All LED current limiting resistors are on the backside of the PCB so they can be swapped if the LED brightness is not to your liking.
Only one of the four (green) Brainboards needs to have the power header and associated electro cap and bead/ small resitor installed, power is transferred through the red panelcomponent board.
The pushbuttons used are kind of pricey but the action is rather nice, one can swipe a row of buttons and all will smoothly switch. I think they look really good too.
they can be found
here
Oh, and ignore those two white 2 pin headers on the left brainboard, that was a bad idea that actually works badly too. They were supposed to cascade the clock and reset signals but cascading the reset is a bad idea anyway. Cascading the clock is taken care of by the panelcomponent-board.
Right now I have 3 PCB sets that are not spoken for, who is in?
I am thinking 55 euro for the PCB set and 10 euro for a panel.
And for some more bad news, I have some issue with Paypal and although I can receive your money there, I can't use it because they have suspended my account (long boring story involving lots of bureaucracy and no cooperation)
Right now I prefer international bank transfer.
So apart from that,
who's in?
=================================
Complete BOMs can be found at
FALAFULAR