I still have a 1990s-era Sony 35" CRT in the garage . . . but it's in the garage. I shudder to think of the half-dozen or so perfectly good flat-screen 15" Toshiba TVs I just threw away—they had both component and S-Video I/O. I bought these in 2005 for a homemade video dub-rack I was making. Not to mention the 36" flat-screen Sony SD and HD CRTs which went to electronics-recycling in 2020. Oh well. Here's the three CRTs I managed to hold onto:
• Sony 35" Trinitron CRT (curved-screen).
• Dell and HP 15" and 17" Amiga-compatible CRTs.
I can Dutch-mount (tripod-plate at 90°) my Sony DSR450 standard-def 2/3" broadcast camera on a Vinten Vision 5 fluid-head, with the tripod mounted on a cheap track-dolly (which rolls on either Matthews steel-track or ABS pipe) to accommodate both Z-axis roll and Z-axis distance-control for off-monitor shooting. The DSR450 is also capable of slow-shutter for some extra dreamy, in-camera effects.
To be able to monitor my inputs more easily, I'm about to order some dual-rackmount 7" flat-screen monitors to install into my Middle Atlantic 6U 19" wall-mounts. These are the cheapest B+H carries—no HDMI-input, but they have a composite BNC loop-through in the back in addition to a handy front-panel BNC composite-input: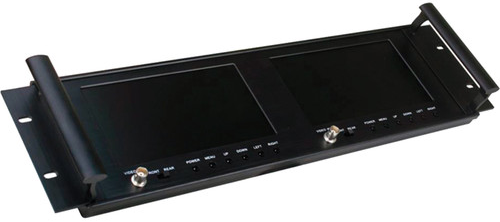 Unique Product Solutions dual 7" rackmount monitor with loop-through ($229).
One B+H customer reported that these don't include power supplies, so I also ordered two Watson 12V/2A PSUs at $11.95 each. Other than that, customer reports indicate high satisfaction with these monitors. The nice thing about ordering from B+H is that they discount the sales tax from your total if paying with their Payboo credit card. Your total out-the-door price with the added PSUs comes to $241.90 each.